I received a call this week from a customer of one of our fabricators. The head on his KPS3030M Hampton faucet would not stay in neck of the faucet. I asked him to look under the sink and to see if there was a spring on the hose. When he told me there was no spring I knew the faucet had been installed incorrectly. I talked with his "plumber" and sent out new parts. I asked them to call me while they were installing the faucet so I can help them install it correctly.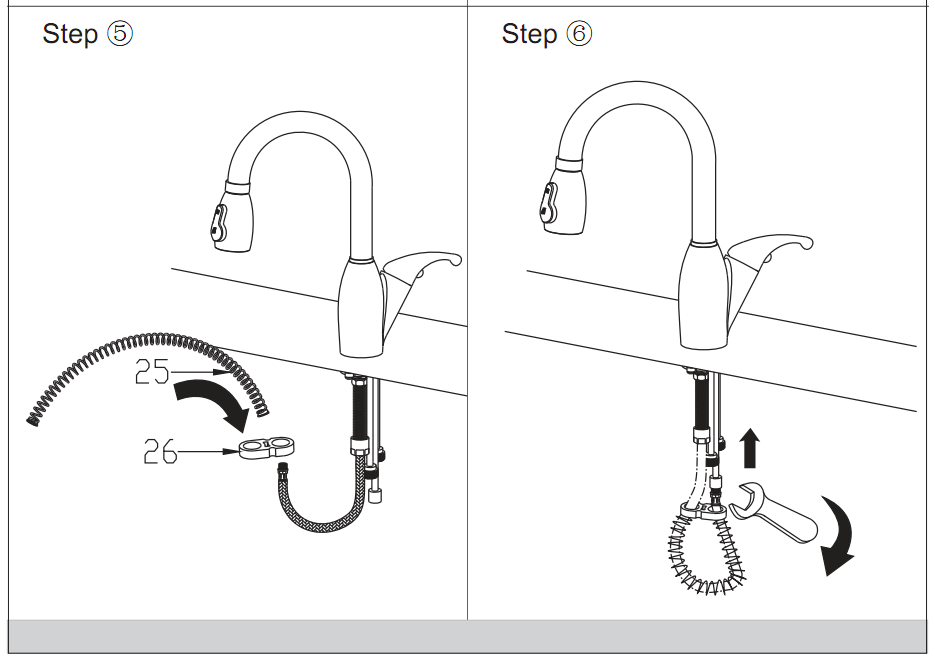 Many faucets have a weight system to help with the head and hose retraction. The weight systems come in two styles; a weight fixed to the hose or a donut shaped weight that slides on the hose. The fixed weight will restrict the hose because the weight needs to be installed at the bottom on the hose when the head is in the neck. When the head is pulled out you can only use half the hose because the weight hits the bottom of the faucet. The donut shaped weights can hang up on valves and other plumbing. Both will bang on the piping and  if a large box is stored under the sink the weight hits or rests on the box and will not help with retraction of the hose and head or with holding the head in the neck.
The Eclipse spring retraction system will allow nearly all of the hose to be extended,  will work around the piping and will work even if a box pushes the hose out of the vertical. The spring system does need to be installed correctly. As you can see on the drawing the hose needs to come out of the faucet, through the figure eight shaped piece called a Spring Holder then through the hose, back through the Spring Holder and attach to the faucet. The spring holder keeps tension on the spring. It is best to check that the hose is not twisted. Sometimes during installation or use the hose and spring system can become twisted. This can be corrected by turning the hose until the twist is removed.
If you have any questions about your Eclipse faucet or sink please contact us at sales@anosales.com.