Cleaning your new ANO German Made Granite Composite sink is easy. No harsh chemical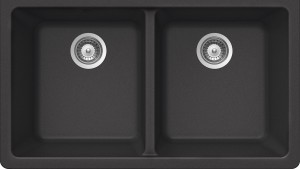 are required!
When your sink is first installed it should be thoroughly cleaned to remove any construction related debris, dust and dirt.
Use soap and water and soft cleansing pads like Scotch Bright or Mr. Clean Magic Eraser.
For stubborn water spots, soap scum or other spots mild cleansers like Barkeepers Friend can be used.
To avoid build up of minerals or soap scum the sink should be washed, rinsed and wiped dry after use.
To remove mineral build up a mixture of white vinegar and water will remove the minerals. There are also a number of commercial cleaners available. such as CLR or Lime Away. Do not use acid based cleaners. Use only pH neutral cleaners. As with any cleanser test it in a small hidden area.
If you need to remove labels they can be removed with acetone – nail polish remover.
Mineral oil or commercial conditioners can be applied to a clean sink to enhance the luster.

DO NOT use steel wool, bleach, ammonia or drain cleaners.