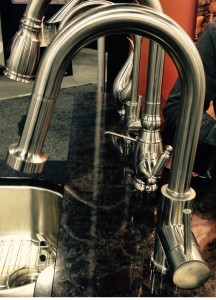 If you are looking for a contemporary faucet that does not appear in any sales literature then consider the unnamed faucet in the picture. ANO has a very limited supply of these faucets available.
This faucet includes the body of a KPS3030 Sabastopol and a head that switches from spray to flow. this picture was taken at the Eclipse booth at the recent International Surfaces Event in Miami Beach.
See you countertop contractor for availability and pricing.